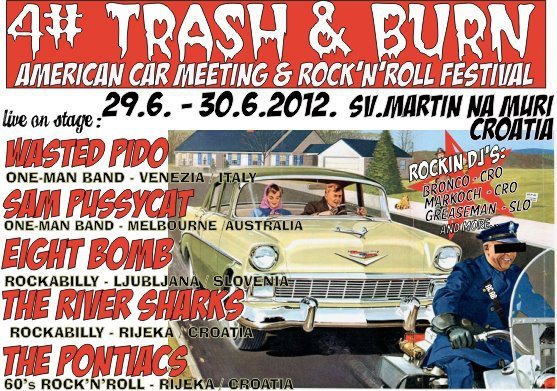 fine giugno, Wasted Pido go Croatian !
28/06 – Spunk, Zagreb
arriviamo alle 19 a Zagabria dopo un viaggio super tranquillo. Dentro lo Spunk ci sono già i Trio Banana  che fanno i suoni. Li conosco: ci siamo incrociati diverse volte tra Roma, Bologna e la Toscana in questi anni. Roberto, bassista del gruppo, mi da una mano a fare il souncheck, e poco dopo siamo davanti al megaschermo del locale i cevapcic portati da Goran e una birra in mano a vedere la partita dell'Italia. Euforia generale per la vittoria dei nostri, il concerto va bene, anche se non c'è molta gente.
29/06 – trash and burn festival, Sv.Martin Na Muri
Ci svegliamo a casa di Branko dei B and the Bops e dopo qualche minuto di decompressione mattutina usciamo a fare un giro in centro Zagabria con Branko e la sua ragazza. La città è sempre bella, anche se è difficile farsi un servire un caffè senza latte. Dopo un pranzo a base di resti di cevapcic avanzati dalla sera prima partiamo in direzione Sv.Martin Na Muri: Trash and Burn Fest here we go!!
Ci perdiamo per i campi introno al festival ma dopo un paio di telefonate riusciamo ad arrivare sani e salvi. Il festival si svolge in un agriturismo con laghetto in mezzo, il pubblico è un misto di motocilisti, rockers e pin ups locali. Incontro Nevel, il gentilissimo organizzatore che mi mette subito in mano una bottiglia gelata di Pelincovac. Signori della pro loco cucinano spezzatino bollente e focacce fritte cosparse di salsa all'aglio. Faccio i suoni con l'aiuto di Patrick, un ragazzino di 13 anni che parla benissimo inglese e vuole imparare a suonare la batteria (o la chitarra, non ha ancora deciso). il pomeriggio passa così tra birrette e il dj set di Marko e Branko fino alle 21.00. Poi suona Sam dei Digger and the Pussycat, da Melboune: chitarra e voce punk-rock. bravo, anche se lo show avrebbe bisogno di un batterista (poi ci spiegherà di essere stato mollato da pochi giorni dalla band che aveva nostalgia di casa ed era rientrata in Australia in anticipo, lasciandolo a piedi).
Dopo Sam Pussycat è la volta degli Evokers: cover band locale garage/blues, la solita salsa trita e ritrita di covers scontatissime. Comunque il grado alcoolico è ormai alto. Salgo sul palco e suono per circa un ora e mezza, non vogliono più farmi scendere, la risposta della gente è divertente. La bottiglia di pelincovac è con me sul palco e il pubblico mi sfida a berne dopo ogni pezzo. a metà concerto è quasi finita. lo show finisce con me che lancio la strumentazione dal palco, cadendo rovinosamente. il resto sono ricordi confusi e mancanza di ossigeno. mi sveglio la mattina dopo tra le braccia di Elena (che mi ha salvato la vita la sera prima) e dopo aver incontrato Nevel andando fare colazione realizzo cosa ho combinato: 150 euro di danni alla strumentazione del festival, tra strisci alla grancassa, hi-hat rotti e un microfono danneggiato.