Wasted Pido from Venice (Italy) plays dirty rock n roll, lo-fi country blues, sometimes using cheesy drum machines, but mostly in the good old one man band style. From the electro-rockabilly of his first recordings, Wasted Pido music gradually shifted to a primitive "jump" blues, delivering the beat with a weird "heavy metal" fingerpicking.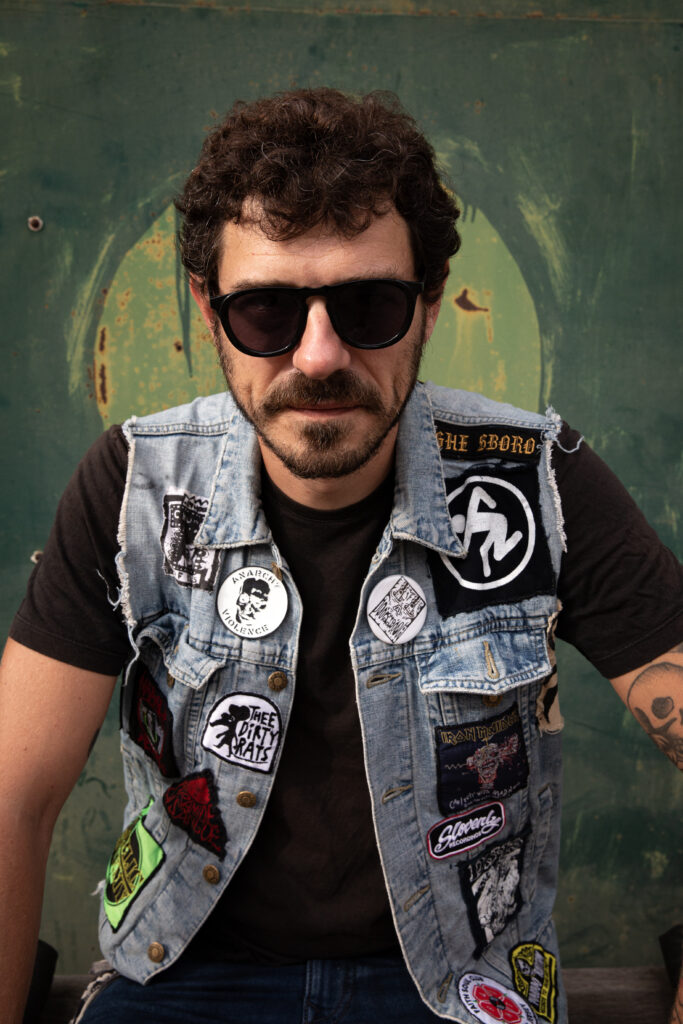 Since 2005, he played hundred of concerts in Europe, USA, Asia and South America, traveling in the underground diy world sharing the ride with many other one man band: Possessed By Paul James, The Amazing One Man Band, O Lendario Chucrobillyman, Sheriff Perkins, Gipsy Rufina, Trash Colapso, The Fabolous Go Go Boy From Alabama, Extreme Blues Dog, Thee Mysterious Asthmatic Avenger, Nestter Donuts  and sharing stages with artists as Bob Log III, Blood Shot Bill, King Automatic, Reverend Beatman and countless other garage and punk bands.
He also appeared live on National TV in Uruguay (!!)
The story so far…
Grown up in a Venice (Italy) suburb called Mestre, after a failing attempt to play heavy metal as a bass player, in 1994-95 young Pido join the punk-hc band Yellow Stonex, recording a demotape and playing a dozen shows in the local squats and clubs/festivals. At the same time Pido was playing drums in Rotten Godzilla's and filming short movies with his friends around the municipal rehersal room. Later on he played guitar in the horror-punk band The Goonies, and with the same drummer Eros later founded the instro-surf outfit The Iguanas. Between 1998-2000 he was in short lived punk-hc band Dr. Paddo, and then co-founded The John Woo with drummer Davide Zolli. At the turn of the century he join the psychobilly band The Homonas, and the punk-hc band L'Amico Di Martucci. Pido now has become Wasted and he's recording and self-producing stuff in his room too. In 2005, he recorded on a 4tracks tape machine at home of his friend Daniele Scarano his first session, that is released as Wasted Pido/8aven Split CD-R by 8mm Records.
In 2006 another session on the same 4tracks, a couple of songs published on "Sick of Being Sick" Compilation LP by Primitive Records and "Killed By Trash" Compilation by Ptrash Records. In June of the same year he organize and plays at the "First International Monobanda Contest" in Mestre, with Johnny Gentlehand, Venus Fly Trap Girl, Mr. Occhio, Sheriff Perkins, King Automatic and others. In august he records a dozen of songs with Woolter (Kelvin, MacinaDischi) in his garage, released as as mp3 download on Dj Ignoranza website. From 2006 to 2008 he tours Italy and Europe carrying around an Eko Ritmo20 drum machine.
In 2009 Wasted Pido starts to play a real drum kit and travel Italy on the "Cowpunx From Hell Tour" with Sheriff Perkins. He filmed the tour that later edited as a movie: "Cowpunx From Hell". The movie was screened in various film festivals (Dorf, Circuito Off, CinemaZero…) and won one award in a peripheral sort movie competition. Shortly after, Wasted Pido collaborate with designer Elena Xausa in the making of the now legendary "Cowpunx Goes Giudecca" party and CD compilation featuring the then-growing Venice one man band scene (The Tease Cavern, Anthony Wild Turkey, Loose Dog, with guests Sheriff Perkins from Paris and Number 71 from Napoli). Around that time Wasted Pido record one song at the Outside Inside Studio for the "One Foot in the Grave" Compilation CD by Kizmiaz Records. Constantly playing shows around the region, and booking one man band shows in every hole he would find in Venice.
In 2012 he jumps to Switzerland to record "The B-Low Budget Session" with Benu (The Come 'N Go, Stompin' Hobos), later self-released as 7'' on his short lived label 94tapes.org. In December he's touring Europe with Sheriff Perkins through France, Switzerland, Austria, Croatia, Hungary.
In 2013 he's touring Brazil, Argentina and Uruguay and record in the Caffeine Studio in São Paulo with Luis Tissot (The Fabulous Go Go Boy From Alabama, Human Trash, Jesus and the Groupies, The Dirty Rats, Chicken Snake…). It will be released as a split tape with Trash Colapso, one man band from Argentina, on Scrap Metal Dealer / Rotten Babuino Entertainment. In the meantime he tours through southern Brazil with Gipsy Rufina and O Lendario Chucrobillyman. At the "Mississippi Delta Blues Festival" in Caxias Do Sul (RS), he meet blues guitarist Renato Velho who introduced him to the basics of fingerpicking guitar.
During that tour he recorded the "Mariscal Sessions", 2 days of improvisation with O Lendario Churobillyman and Gipsy Rufina in Mariscal, on the coast of Santa Caterina state. Back in Venice, the Mariscal Sessions are published by Rotten Babuino as a Cassette with a Fanzine with illustrations by Il Lama. In the meantime he records on his 4-tracks at home "Wild Tapes and Rotten Demos" (pressed in 100 CD copies by Rotten Babuino with artwork by Gabriele Longega) and then he tours again around Europe. In 2014 he's in the compilation "Monobanda Mash Vo. 2" on Dead Elvis's label Monster Mash Records, and then he's on the road again in Brazil and Europe with O Lendario Chucrobillyman as "Rodoviaria Cowboys".
In November 2014 he starts to record in his home studio with the production of Gabriele Boi (The Rippers, Mojomatics). In the mean time record with the Mysterious Asthmatic Avenger & Sheriff Perkins "Cowpunx Mixtape Vol.1" (Rotten Babuino 2015) and plays with 'em at his grandma's birthday party. In March 2016 he's touring Italy with The Amazing One Man Band from Uruguay. In June 2016 "Homesick Songs" is finally mixed by Max Stirner in Ferrara. In September he's touring again Brazil with Thee Dirty Rats and O Lendario Chucrobillyman. In Sao Paulo he records two songs at the Caffeine Studio with the production of Luis Tissot. Based on this material, "Homesick Songs" is out in March 2017 as a tape co released by Fat Boys Don't Cry / Rotten Babuino and a 7'' co-released by Dead Music and Rotten Babuino with artwork by Yaprak Kirdok.
Followed a 19-gigs tour in Italy, Germany and Switzerland with Sheriff Perkins and The Fabulous Go Go Boy from Alabama in March and April 2017.
In December 2017 he's touring north Italy with drunk steel guitar loser Vinnie Crowley, he recorded the shows on a mono tape recorder and released it as a split tape on the usual Rotten Babuino.
In the summer of 2018 he's on a 28 gigs tour in  Italy and Spain with flamenca trash genius Nestter Donuts. Later that year he's recording in the Gibigiana workshop/gallery in Venice some weird steam-punk music played with scrap metal instruments made by the artist Mirko Donati, later overdubbed by Valentino and Salvo of The Barsexuals and relased as Electric Deaf In March 2020.
In February & March 2019 he's in New Orleans and Memphis playing some shows with Jonas Morbach AKA Pawn Of The Jungle. In November and December 2019 he's touring Vietnam & Japan playing at We're Loud Festival in Saigon and supporting The Monsters and The Cavemen in Tokyo.
Back from the Far East, Wasted Pido is ready to record his first full-length LP at Colosso Room Studio, produced by his old friends Walter and Anna of Kelvin / MacinaDischi. "Wasted Pido Ghost Revenge" is ready to be released in March 2020 with a European tour of 50 concerts with O Lendario Chucrobillyman, simultaneously with the spread of the Covid-19 pandemic.
He's currently playing guitar in Destory All Gondolas, Barsexuals, Psico Galera, and is working on another Electric Deaf tape.
Wasted Pido real name is Enrico Stocco and aside music he work as freelance videomaker and editing video technician. He's in the board of Ghiaccio 9 no profit, promoting independent art and music in Venice.